Your Dog Will Love Our Play Areas!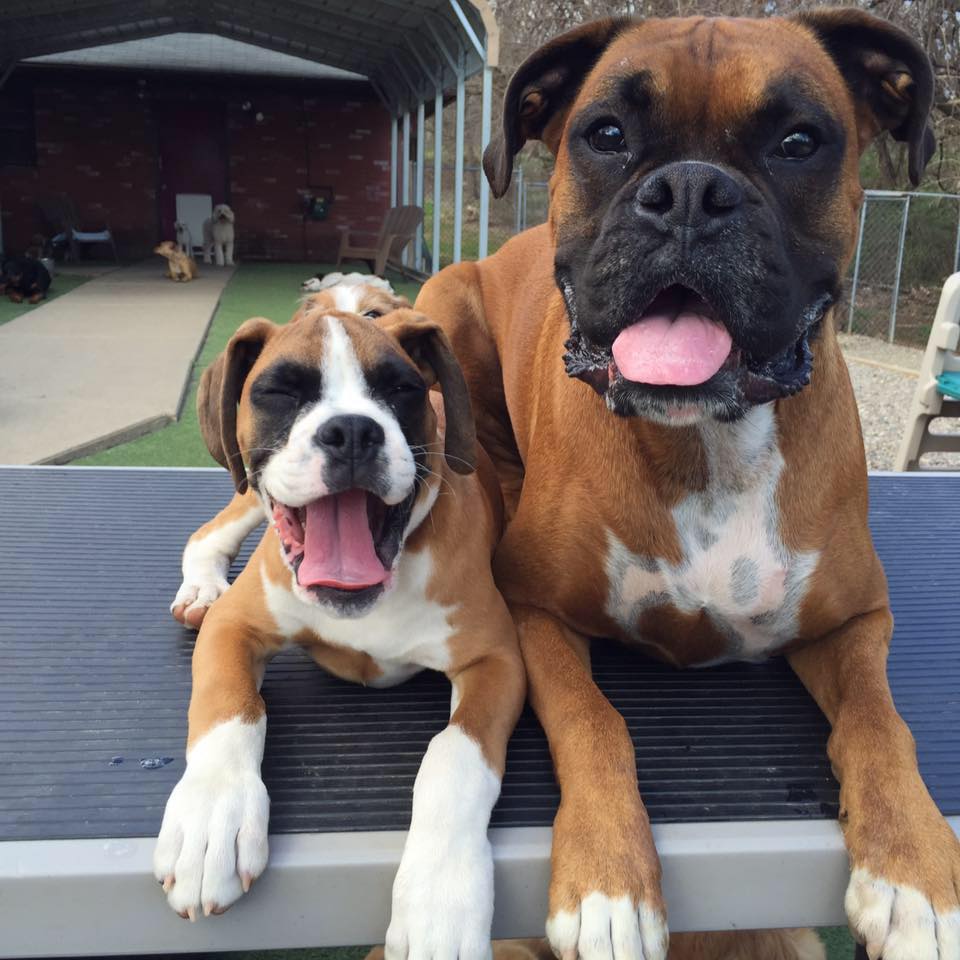 We have two outside, of course fenced, yards at The Patch, where the dogs are always supervised. The one is the "small yard", for our puppies and small dogs, and the other is a larger field where the bigger guys can really get running. Both areas have plenty of equipment for climbing and chasing around, as well as beds and platforms for resting. The big yard also has a sand box, and summer brings out the pools and some water hose fun in both yards! Really inclement weather brings everyone inside, still room for wrestling and space for snuggling. Fresh water for drinking is always available.
If needed, we can bring your dog in to feed him/her. And if your dog just needs a quiet place to rest or recuperate, we can provide that as well.
And always supervised, " personalized" attention from the human members of our "pack"
To join us, your dog must be: 



Current on all vaccinations (and you have proof of veterinary records for same)

On a flea and tick preventative

Spayed or neutered if seven months of age or older

Friendly with other dogs and people
Get full-service grooming when you visit us! We offer everything from basic grooming to de-shedding, plus a la carte services including nail trims and teeth brushing. 

The Bath and Basic
Includes a bath using premium shampoo, fluff drying, brush out, ear cleaning and nail clipping

The Tidy Up
Includes the Bath and Basic, plus pads shaved, sanitary clip, face and feet neatened

The Full Groom
Includes everything in the Bath and Basic and Tidy Up, plus a full style hair cut or clip (talk to us for more details)
Doggy Supplies for Your Convenience
Check out our retail store for plenty of choices in collars, leashes, treats, toys, coats, gifts and more! If you don't see what you want, let us know – we can find it for you!
What Our Clients Are Saying
Great place & great experience all around.
My dog, Ralphie, LOVES The Puppy Patch. He begins to wag his tail excitedly as I approach the place from Route 22 and practically wants to jump out of the car and rush to play with his four-legged friends. The staff is fantastic and friendly. I'm so glad he has such a safe, caring place to go to on the days when I have lots of errands to run. I also love to see the pictures/video of the dogs posted on FB. It's so cute to watch.
What a great experience .Im so pleased with the grooming job and great staff definetlly recomend.